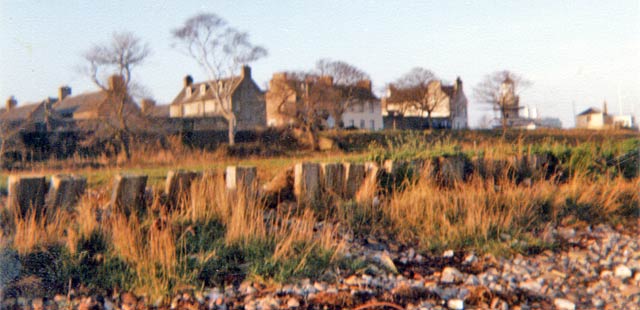 The Cromarty Archive
Braehead from the shore
An unusual shot from the beach below the Links of the houses on Braehead. Note that the house behind the tallest tree is Miss Macdonald's house, which burnt down in a mysterious fire shortly afterwards. See
picture #1011
. It is currently being renovated.
Barkly Cottages, to the left of that house, were inhabited at this time by George and Ted ??. George had reputedly won a large sum of money on a horse race in the south of England, and had bought the property in the 60s. Ted was a bit simple, and used to wander the town giving sweets to children. The sort of person that kids would probably be warned to avoid now, but he was harmless.
The wooden piles in the foreground are part of the old seabreak which ran almost all of the way along the top of the beach. Most, if not all, of this has now rotted away. Date is a guess, but seems about right.
Picture added on 16 March 2005
Comments: