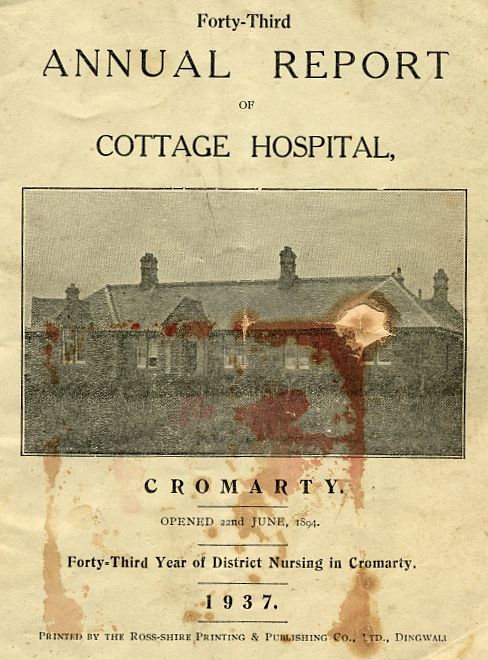 The Cromarty Archive
Annual Report of the Cottage Hospital
Text:
Forty-Third Annual Report of Cottage Hospital, Cromarty. Opened 22nd June 1894. Forty-Third Year of District Nursing in Cromarty. 1937. Printed by the Ross-shire Printing & Publishing Co., Ltd., Dingwall.
Inside this lists the folllowing:-
Trustees.
The Proprietor of the Estate of Cromarty
The Sherriff of the County.
The Provost of Cromarty.
The Parish Minister of Cromarty.
Dr GG Middleton of Davidston, Cromarty.
WFB Scott Esq, Rosenberg, Cromarty.
Chairman of Governors - GDN Ross Esq of Cromarty.
Managers for 1937-38
Chairman:- Dr GG Middleton of Davidston.
Lady Ross, Cromarty House
Mrs MM Mackay, Reay House
Mrs EL Ross, "Mary Ness", Cromarty
Dr GG Middleton of Davidston. and Mrs Middleton
Dr D Johnstone and Mrs Johnstone, Station Road, Dingwall
Dr KJA Gillanders and Mrs Gillanders, Cromarty
Captain D Morison of Navity and Mrs Morison
Ex-Provost John Bain and Mrs Bain, Cromarty
Ex-Provost Peter Hay, Rurki, Cromarty and Mrs Hay
Mrs Middleton, Rosefarm
WFB Scott Esq, Rosenberg
Jas A Maclean Esq and Mrs Maclean, Commercial Bank House, Cromarty
David Malcolm Esq, MA, The Schoolhouse, Cromarty
Don A Fraser, Esq and Mrs Fraser, Bank of Scotland House, Cromarty
Mrs Chapman, Cromarty Mains Farm
Captain and Mrs Shaw-Mackenzie of Newhall, Balblair
WF Robertson, Esq and Mrs Robertson, Newton, Cromarty
Miss AA Murray, St Ann's, Cromarty.
The booklet also contains a two page written report and tables of information about patients, accounts and donations.
Picture added on 22 April 2005
Comments: