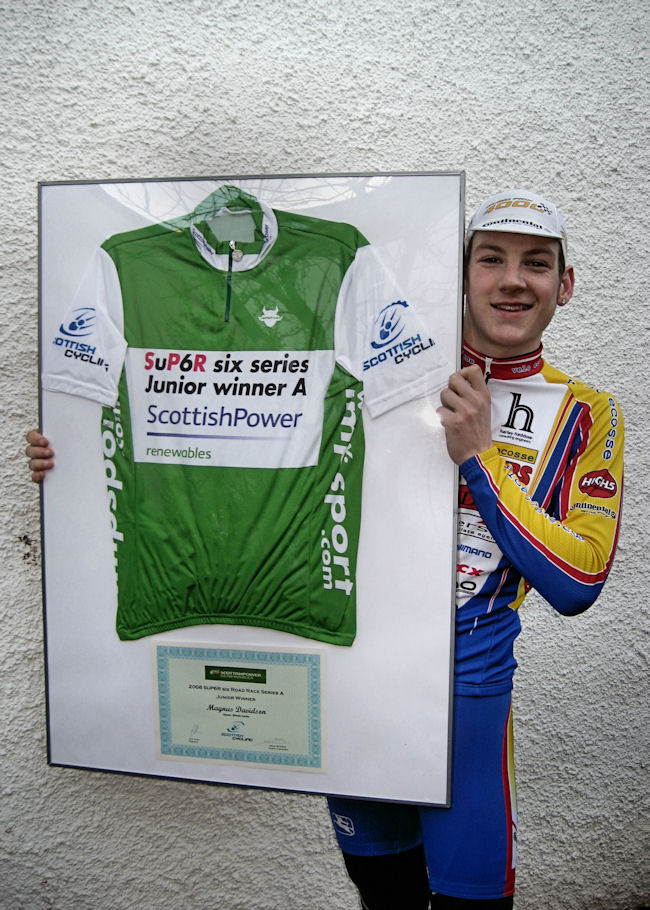 The Cromarty Archive
Magnus Davidson - Super Six Champion 2008
Many of you will have seen Magnus Davidson, of Church Street, zip past you on his bike, or may have read about his cycling exploits in the Ross-shire. He started on a Mountain Bike, and progressed through the Scottish Juvenile and Youth systems, winning a series of Scottish Championships on the way. He is now a Road and Track cyclist, and during 2008 was the Scottish Track Junior Pursuit Champion, and the Scottish Power Super Six Road series winner, again at Junior.
He is pictured here with his framed winners race Jersey.
Over the years he has been helped by many people in Cromarty, including Pete Clunas, Tim Meek, Iain Taylor, and John MacFarlane for starting him on a bike, encouraging and coaching him, transporting him to races, and helping with the occasional emergency bike repair.
After five years of stalwart support from Steve and Clancy MacDonald at Square Wheels in Strathpeffer, Magnus now rides for Velo Eccosse, one of Scotland top cycle racing teams.
However a special thanks to Wanda and the rest of the team who have worked hard to source additional funding for Magnus, as he now moves into the next phase of his cycling career. Magnus was delighted with the recent award from the Black Isle Discretionary Budget, which Wanda sourced for him, and also for the £90 raised by the people of Cromarty at the Victoria Hall, to help with his training and travel costs.
Picture added on 04 January 2009
Comments: