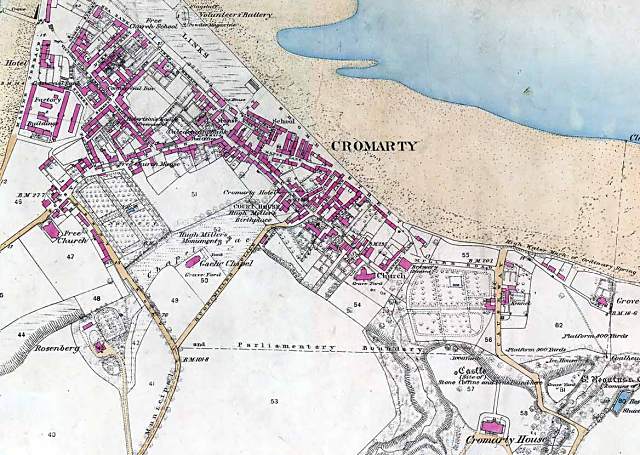 The Cromarty Archive
Map of Cromarty - 1871
This map shows a number of differences from today. At the right hand side some houses can be seen to the east of Clunes in what is now a field, and there is a reservoir on the hillside above. These houses are not visible on the Ordnance Survey of 1897 - see
picture #588
. The manse has not yet been built, nor have the Coastguard houses and a market garden and greenhouse stand on what is now Victoria Park.
A number of street names now unknown are marked - Brick St, Forsyth St, Ross St, Seaview, Victoria Place, Links Terrace. The Little Vennel is marked as Gordons Lane, whilst Gordons Lane is shown as Manse Lane. The Big Vennel is called Fish Lane, and the Paye is marked as Hugh Miller Place.
A very large version of this map which will allow you to read the street names can be seen by clicking the link below the right hand corner of the pic. Note that it is about 200k and may take a minute to download.
View Large Version
Zoomify
Picture added on 14 October 2003
Comments: