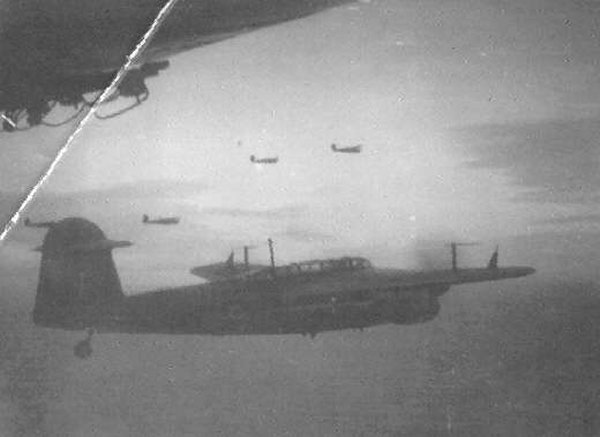 The Cromarty Archive
Barracuda aircraft over the firth - 5th Jan 1945
This would have been a common sight in the Cromarty Firth during 1944 and 1945. HMS Owl - aka RNAS Fearn - aka Fearn Drome was the home to at least two Squadrons, at any one time, of Royal Navy Fleet Air Arm Barracuda Aircraft, based there "working up" prior to joining RN Carriers in the Clyde, during 1944 and 1945.
This picture is of 812 Squadron flying from the Cromarty Firth to Northern Ireland, and then the Clyde, to join HMS Vengeance in January 1945. Aircraft crashs were not uncommon, but 812 suffered serious loss on the 25th November 1944, when two Barracuda's collided over Nigg sands, killing 5 of the 6 crew. Their graves can be seen at Rosskeen Cemetry, Invergordon. The remains of the two aircraft can be seen - I have been told - at low tide, near to Barbraville pier. My Father served with 812 from June 1944 to August 1946, he was supposed to be flying on the 25th, but had been slightly injured in a crash at Fearn the previous day.
Almost all the Barracuda crews who flew over the Cromarty Firth served in the western approaches, the North sea and the Med, then following VE day, in the Pacific, with 11th Aircaft Carrier Squadron, destined for the invasion of Japan. 812 squadron, in HMS Vengeance was at sea steaming to start operations against Formosa (Tiawan) when peace was declared, following the dropping the two A bombs. They subsequently liberated Hong Kong, not returning to the UK until August 1946.
HMS Vengeance has just recently been retired from the Brazilian Navy - meaning it has served as warship for almost 60 years! It was a visitor to the Firth during the 1950's.
For more information
www.hms.vengeance.btinternet.co.uk
See also
picture #2369
.
Picture added on 18 December 2003
Comments: