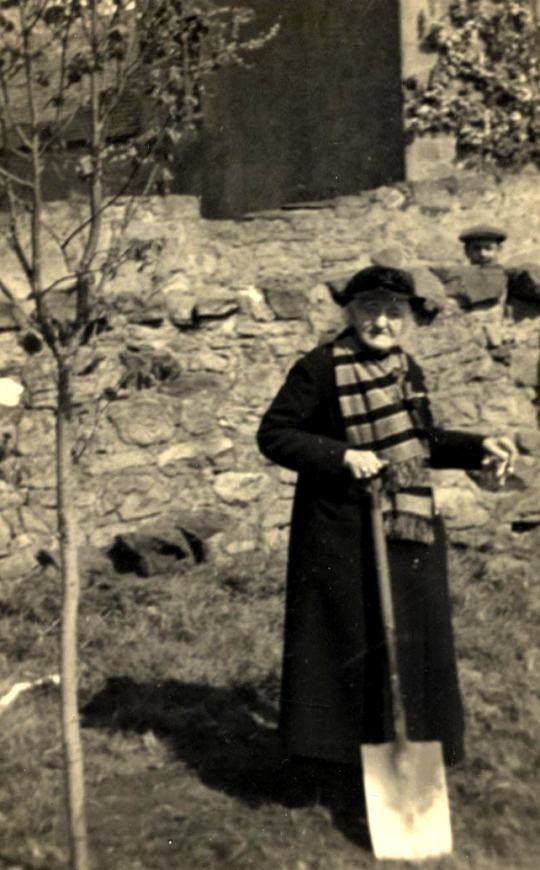 Marion Davidson - c1935???
Mary says "This is a photograph of my great grandmother, Marion Davidson - mother of Bella and Mary. I have some statistical information, thanks to my brother, Robin Munro, who is in the process of doing some research into the family."

"We do not have a date of birth, and the details of Marion's age do not tie up in different censuses, but she appears to have been born around 1850."

"She was in service as a cook/domestic servant in a house in Bank Street (I would love to know which one!) and married William Davidson, Baker in 1888. The census of 1891 shows them staying at number 9 Church Street which, interestingly, was, many years later, Chapmans newsagents shop! Later they moved to 26 Gordons Lane (I think my mother was born in Gordons Lane but am not sure if it was the same house)"

"We have not yet been able to determine a date of death for Marion but she looks quite old in this picture (rather too old to be wielding a spade!)"

Any ideas where this is? There are two walls behind Marion, with presumably a road in between. Behind the second wall is a large house -you can see a slated roof through the trees on the left.

Albums: People