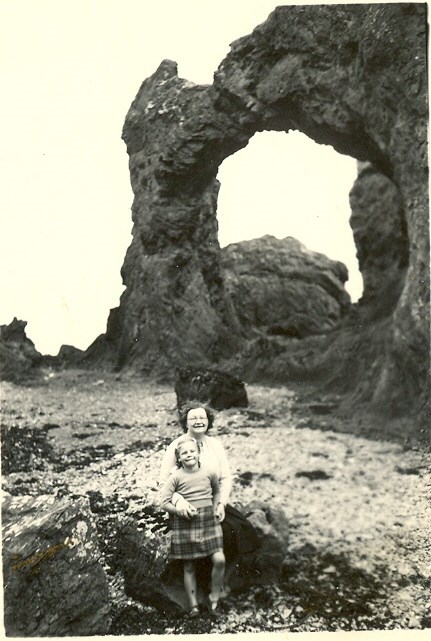 Elsie and Mary Munro
Mary says
"A slightly different view of McFarquhar's Bed. This is myself with my mother (Elsie Munro, nee Chapman) taken around 1956/7 I'd guess.

This was a favourite haunt of ours when we were young – my most memorable visit being as a young teenager when my brother Robin and I decided to go out one lovely summer's evening and rather lost track of time. Needless to say, we had not told anyone where we were going and when we got back we found that there was a search party out looking for us!

My father had gone all the way along the rocks to the dripping cave (we discovered later that he had injured his toe on the rocks, which made him even more unhappy!). We met my grandmother (Bella Chapman) and her neighbour "aunt" Daisy McKay walking along towards the tennis courts and they sent us home post haste. I remember we were both sent to bed immediately – I think Mum feared for our safety had we been around when my father returned!! "
Albums: People
Groups: McFarquhar's Bed