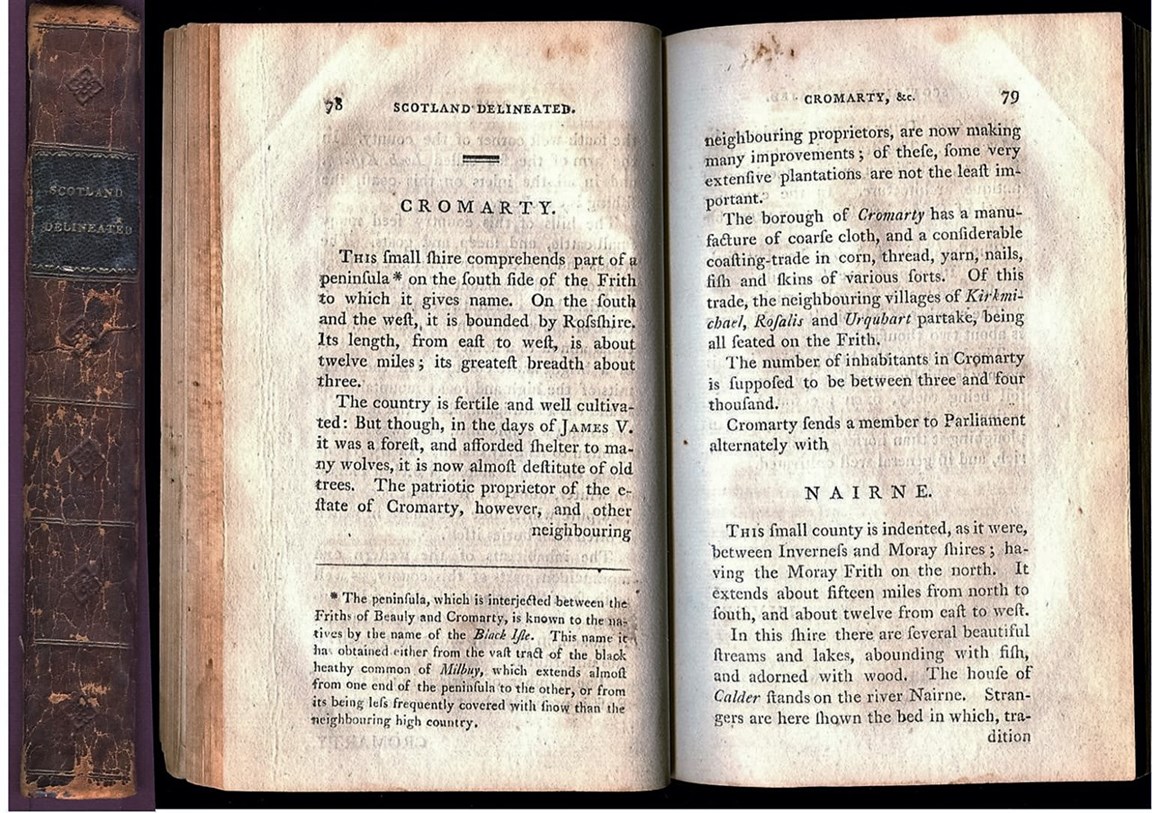 Cromarty page from Scotland Delineated.
Date Added: 30 January 2017
Contributor:
James Barr
Year:
2017
Picture No: 3649
Scan from a book I own. Interesting description of Cromarty circa 1817.

"This small shire comprehends part of a peninsula* on the south side of the Frith to which it gives name. On the south and the west it is bounded by Rossshire. Its length, from east to west is about twelve miles; its greatest breadth about three.

The country is fertile and well cultivated: But though, in the days of JAMES V it was a forest, and afforded shelter to many wolves, it is now almost destitute of old trees. The patriotic proprietor of the estate of Cromarty, however, an other neighbouring properietors are now making many improvements; of these some very extensive plantations are not the least important.

"The borough of Cromarty has a manufacture of coarse cloth, and a considerable coasting trade of corn, thread, yarn, nails, fish and skins of various sorts. Of this trade the neighbouring villages of Kirkmichael, Resolis and Urquhart partake; being all seated on the Frith.

The number of inhabitants of Cromarty is supposed to be between three and four thousand.

Cromarty sends a member to Parliament alternately with Nairne"

*The peninsula which is interjected between the Friths of Beauly and Cromarty is known to the natives by the name of the Black Isle. This name has obtained either from the vast tract of the black heathy common of Milbuy, which extends almost from one end of the peninsula to the other, or from it being less frequently covered with snow than the neighbouring high country.