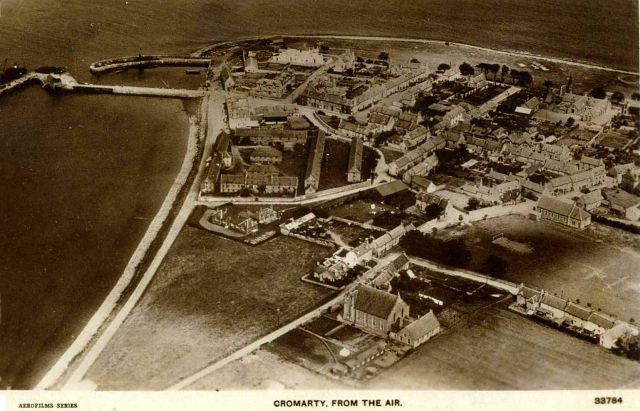 The Cromarty Archive
Cromarty from the Air - c1935
This is a brilliant shot showing some amazing detail, especially on the large and zoomified versions.
Starting at the bottom, there is no Bayview nor is the White House built. Next to the West Church there looks like a patch of allotments. At the foot of the Denny the houses of the Sloochd Moochd are still in place with large sheds at the bottom of their gardens near the hospital.
Victoria park has football goals, but I can't see any playground equipment, 'though a worn patch of grass may show where swings are. Only a small shed is shown beside the hall, so Beryl's house must have been built and knocked down between the date the photo was taken and now.
Keeping to the right of the picture, there's an odd circular feature at the back of Townlands barn. At the school, the HORSA hut has not yet been built, and above that the links look much less flat than nowadays.
Coming back towards Bank St, the shop buildings which were burnt down [
picture #83
] and replaced by the current supermarket can still be seen. Two other houses which would be destroyed by fire are also visible - 23 Bank St on the corner of Bank and Barkly Streets, and Barkly house on the Braehead which is being rebuilt as I write [
picture #1011
].
On the corner of Bank St where it joins Allen Square there are houses which I've never seen before, and once into Allen Square we can see the fifth factory building and Cathel's shed where the current Surgery car park is.
Finally, at the harbour the Girnal is still in place and if you look closely you can see the Slide [
picture #85
] in the V's at the back of the harbour sheds.
View Large Version
Zoomify
Picture added on 03 February 2005
Comments: